Government Grants up to 2024
The plug-in grant is available for small vans (less than 2,500kg gross vehicle weight) and large vans (between 2,500kg and 4,250kg gross vehicle weight) with CO2 emissions of less than 50g/km and ability to travel at least 96km (60 miles) without any emissions at all.
The grant will pay for 35% of the purchase price for the vehicle, up to a maximum of £2,500 for small vans and £5,000 for large vans.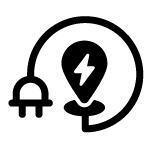 Workplace Charging Scheme
The Workplace Charging Scheme (WCS) is a voucher-based scheme that provides support towards the up-front costs of the purchase and installation of electric vehicle chargepoints for eligible businesses.
Your business can potentially claim up to 40 workplace charge points with a maximum grant of £14,000.