 As the number of vehicles continues to grow, the charging infrastructure is also expanding every day as well as a growing number of home and office charging options.
A huge number of our drivers are now making the switch to electric vehicles. With every major manufacturer offering electric vehicles, alongside some electric-only manufacturers, there are now hundreds of models available.

Better for the environment
Low or zero-emission vehicles are much better for the environment than their petrol or diesel equivalents

Saves you money
Benefit-in-kind (BIK) tax on both company cars and fuel is heavily based on the cars' emissions. Zero-emission vehicles benefit from the lowest tax bands, currently 1%

Cheaper to fuel
The cost of charging an electric vehicle is significantly cheaper that traditional petrol or diesel powered vehicles.

Range
What is the average length of your journey and will the range of an electric vehicle be suitable. If not, are you prepared to wait at a service station whilst it charges? Many vehicles can charge to 80% capacity in just 30 minutes 

Charging
Do you have the space to add a charging point at home? The easiest way to keep your vehicle charged is to install a home charging point – but this is not practical for all houses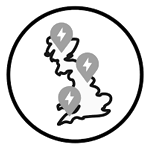 Charging infrastructure
To support your journeys, is there local charging points or ways to charge your vehicle at the office?